PHILIPPE BOLTON, RECORDER MAKER
MEDIEVAL RECORDERS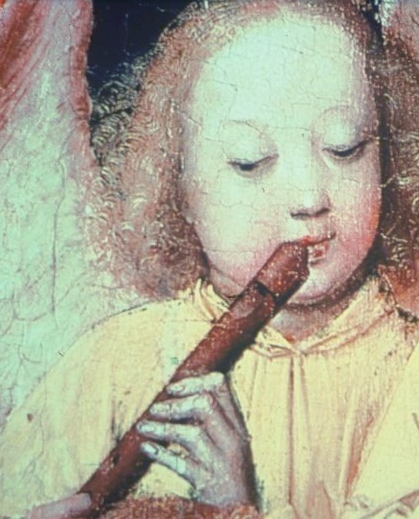 These recorders are based on the three instruments played by angel musicians in the painting of 1463, The Coronation of the Virgin of Cologne by the Master of the Lyversberg Passion.
Their cylindrical bore give them a clear tone, with a loud, well balanced low register. The fingerings are similar to those of renaissance instruments. Their range is at least one octave and a seventh. The larger sizes can go up two octaves or more.
They are made from pearwood, cherry, or other fruit woods.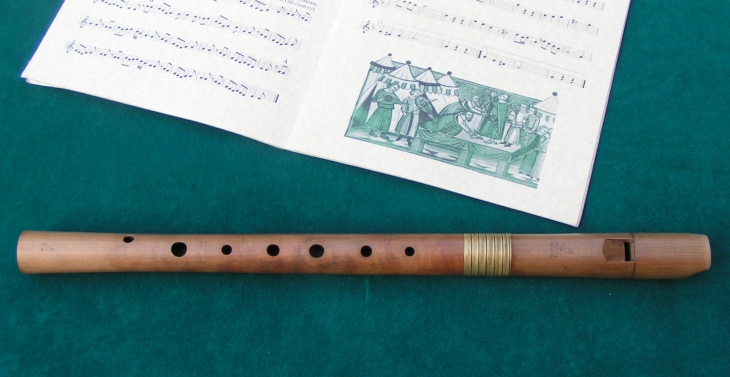 Availagle sizes: Alto in g, Alto in f , Soprano in c, Tenor in d, Tenor in c, Sopranino in f Tailles disponibles : Alto en sol, Alto en fa, Soprano en ut, Ténor en ré , Ténor en ut, Sopranino en fa

Availble tunings:
440 Hz for all sizes, 466 Hz, 460 Hz, & 525 Hz for the soprano, alto, tenor in d and tenor in c.

Pythagorean, mean tone or equal temperaments on request
| | | | | |
| --- | --- | --- | --- | --- |
| | | | | Some of the holes of the sopranino recorder are offset, like those of a Garkleinflöte, to avoid overlapping fingers. |
You can listen to these recorders here

medieval soprano recorder
Your browser does not suport the audio element.
Guillaume de Machaut (ca 1300-1377) :
Dame a vous sans retollir

medieval alto recorder in g
Your browser does not suport the audio element.
Guillaume de Machaut (ca 1300-1377) :
Tel rit aux mains

medieval alto recorder in f
Your browser does not suport the audio element.
Cantigas de Santa Maria (13th century) :
Quen a omagen

medieval tenor recorderin c
Your browser does not suport the audio element.
Llibre Vermell de Montserrat (14th century) :
Mariam matrem


photo Charles Fischer



A set of medieval recorders: soprano, alto in g, alto in f & tenor in c



un interpretation of the Cerisy recorder (in a fourteenth century church in Normandy)