PHILIPPE BOLTON
HANDMADE RECORDERS & FLAGEOLETS
The oscillation of the airstream around the recorder's labium
This video was made in Utrecht University, in the Netherlands, by A. Hirschberg and his team. Here we can see the airstream leaving the windway and oscillating around the labium.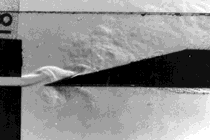 For more detailed information go to this page by A. Hirschberg, with diagrams and videos. The text is in Dutch.
The next video shows how the oscillating airstream interacts with the air column inside the recorder.